Vingroup launches global prize for sci-tech innovations
In light of the International Human Solidarity Day (December 20th), Vingroup – Vietnam's largest private conglomerate announced one of the world's largest annual prizes in science and technology - the VinFuture Prize.
A boost for scientific research and technological innovations
Founders of the VinFuture Prize are Vietnamese billionaire Pham Nhat Vuong and his wife Pham Thu Huong.
In a statement announcing the prize, the couple said: "Making a positive change to bring a better life for everyone is our goal - in business as well as in life. The events of 2020 have shown that more than ever, we need to walk side by side with the kind hearts and brilliant minds that are trying to promote the power of science and technology, helping the world overcome challenges and make our lives better."
With that aim, Vingroup has founded the VinFuture Foundation, which will annually grant a total of $4.5 million for breakthrough scientific research and technological innovations by anyone of any age from anywhere in the world.
Every year, VinFuture will grant one main award and three other awards to honor scientific researches and inventions as well as technological innovations that address the common challenges of humanity like improving human health and quality of life, eradicating poverty, ending hunger, creating opportunities for all to enjoy progressive education, getting access to clean water, renewable energy, promoting equality, responsibility in production and trade, and coming up with effective responses to climate change.
The main prize of $3 million, called the VinFuture Grand Prize, is one of the most valuable science and technology awards to be instituted the world over. The authors of groundbreaking research and technological innovations shown to have the ability to make people's lives better and initiate sustainable living environments for future generations will have a chance to win this prize.
The three other prizes of $500,000 each will be awarded to research or inventions from developing countries; those created by women; and for pioneering research or inventions in a new field.
Aiming to create a better life for everyone
Nominations can be recommended by globally influential scientists and inventors and/or prestigious research, education, technology corporations, and innovation incubators in all countries.
The awards council will comprise internationally reputed scientists and inventors from leading educational, research and technology organizations in the world such as Gérard Mourou, professor and member of the Haut-collège of École Polytechnique, who was awarded the 2018 Nobel Prize in Physics; and Sir Richard Henry Friend, Cavendish Professor of Physics at the University of Cambridge.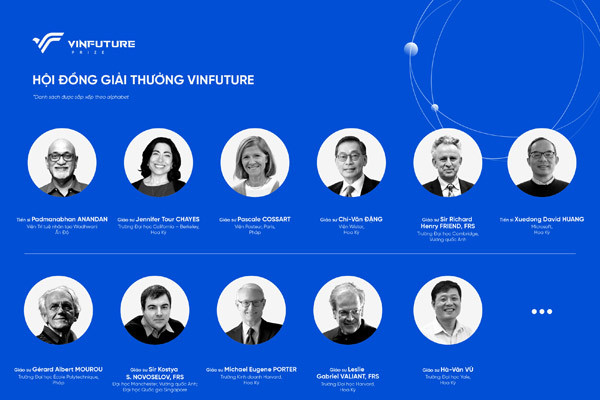 Others in the council are Jennifer Tour Chayes, the University of California, Berkeley's Associate Provost of the Division of Computing, Data Science, and Society, and Dean of the School of Information; Michael Porter, Bishop William Lawrence University Professor at Harvard Business School; and Sir Kostya S. Novoselov, a Russian-British physicist who teaches at the Center for Advanced 2D Materials, National University of Singapore.
The founders have personally committed an initial amount of $100 million, which would be further enhanced in the future to fund the VinFuture Prize's resources and administration process, ensuring sustainability of the Foundation's long-term operations. VinFuture Foundation, an independent, non-profit foundation, will manage the VinFuture Prize.
The VinFuture Awards will start receiving nominations for the first award season from January to June 2021. The list of VinFuture Award winners will be announced in December the same year and the official award ceremony will be held in Vietnam in January 2022.